I bow my knees before the Father, from whom every family in heaven and on earth is named...I pray that Christ will live in your hearts because of your faith. I pray that your life will be strong in love and be built on love.
"Your word is a lamp to guide me and a light for my path" Psalms 119:105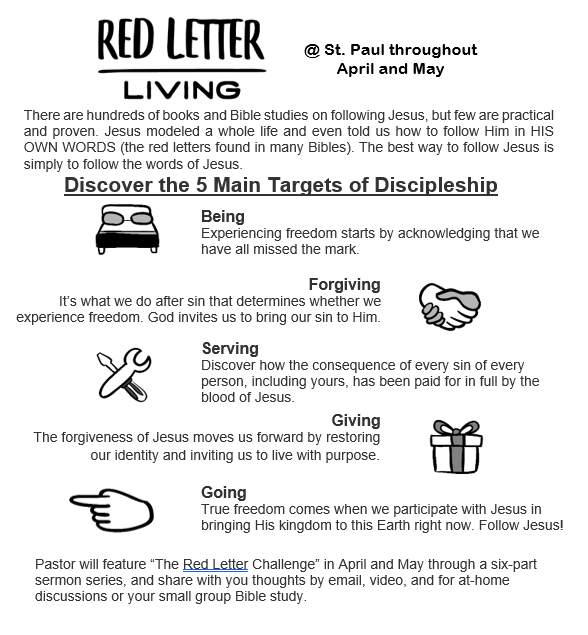 New Life With God is a seminar which offers adults a great foundation for faith and living. This is for adults who want to find out more about our beliefs before committing to getting involved in St. Paul. This is a great seminar for couples who have different Church backgrounds to find out the differences between Lutherans and other church groups. New Life With God is also a great seminar for anyone to gain a renewed Faith foundation if you haven't investigated our beliefs since being a young man or woman getting confirmed. There's no obligation to St. Paul by participating in New Life With God, however, the door to church membership is open to anyone who completes this seminar. There is no memorization, no cost -- just come, ask questions, and let's discuss faith and life. There are seven sessions.
Pastor Paul is leading the discussions. Join Us!
Ministry Plan for Future Growth is Revised
You Spoke … We Listened
Its no secret that churches, like St. Paul, are facing challenges we've never seen before. As our society has changed, so have people's church-going habits. Our congregation's new Ministry Plan for the Future is the result of months of work and listening to the concerns and ideas of our people. On Sunday, June 12
th
of this year, the Voters Assembly said "yes" to the plan presented. 
Click here to learn how you can prayerfully participate.