The most basic question everyone faces in life is Why am I here? or What is my purpose? Self-help books suggest that people should look within, at their own desires and dreams. But the starting place must be with God and His eternal purposes for each life. Real meaning and significance comes from understanding and fulfilling God's purposes for putting us on earth.
"What On Earth Am I Here For?" helps you understand God's incredible plan for your life. The author, Pastor Rick Warren, enables you to see the big picture of what life is all about and begin to live the life God created you to live. Join us for this transformational experience!
Here are the ways you can participate (October 4 - November 22) to find your true life purpose:
Daily Readings of the book "What On Earth Am I Here For?" – Each day in the next 6 weeks read a short chapter from the book. It will take only about 10 minutes and you'll get so much from it!  QR codes in the book allow you to scan with your smart phone and connect to daily videos by Pastor Rick Warren.
Paperback, Kindle, and audio versions available.  Books are available for purchase ($12) in the church lobby; optional Study Guide ($8). You can also purchase the book online or use the Kindle or Audible versions.
Click here to download the Lutheran Study Notes.
Every-Week Small Group Discussion – in person or via Zoom.  Sign Up on google or at the Information Center in the church lobby.
Sunday Sermon Messages go with your personal daily reading and small group discussions.
Pray! Sign up in the church lobby to pray for one of the 42 days in the 6 week experience.
INVITE a neighbor, relative, friend, or co-worker to study with you!
 This is a TRANSFORMATIONAL experience!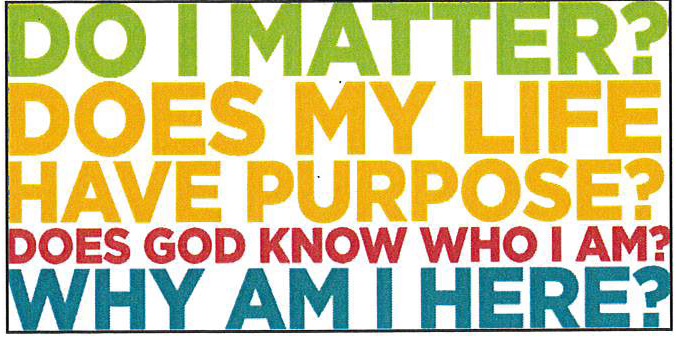 Formed for God's Family
This week's memory verse: "So in Christ we who are many form one body, and each member belongs to all the others."  Romans 12:5
The Benefits of Joining a Small Group
Sundays @ 10 AM    This group is led by Ann & Daren Conley and meets in St. Paul's parsonage (house).  All are welcome.
Tuesdays @ 10:00 AM    Join Pastor Paul in the worship sanctuary at church for coffee and Bible study. 
Tuesdays @ 7:00 PM Women's Group This group meets in the church lobby.  Kendis Bender leads.  You may join this group in person or via zoom.
Wednesday @ 7:00 PM Men's Group This group meets in the church parsonage (house).  Al Gallo & Dave Bender lead the group.
Thursday @ 7:00 PM This group meets in the upstairs education area.  Ron & Tina Muska lead this group.  You may join this group in person or via zoom.
Use this google form to indicate your preference.
We are asking everyone to pray for the success of this campaign to the glory of God.
Pray that each of us finds our purpose in this life
Pray for yourself and our church community
Pray as often as you can during these 6 weeks
Pray as you are guided by the Holy Spirit
Starter Prayer
Father I know that you have a plan for each of our lives, and I understand the main desire for every one of Your children is to know Jesus more and to live our lives in a manner that is pleasing to You and exults your holy name. May I reflect Your purpose in my life from this day forward to your praise and glory.
Inspirational Verse
1 Corinthians 12:6 says
"God works through different men in different ways, but is the same God who achieves his purpose through them all."
Starter Prayer
Help me to fulfill all that You would have me do in my life and may I be obedient to Your voice as I seek to carry out Your purpose for my life. May I rejoice evermore and pray without ceasing. Guide our church to bring you praise and glory as we study Your word.
Inspirational Verse
Isaiah 26:3 says
"You, Lord, give perfect peace to those who keep their purpose firm and put their trust in You."