The most basic question everyone faces in life is Why am I here? or What is my purpose? Self-help books suggest that people should look within, at their own desires and dreams. But the starting place must be with God and His eternal purposes for each life. Real meaning and significance comes from understanding and fulfilling God's purposes for putting us on earth. Read below for an new study opportunity beginning in 2021.
Discover Your Unique Fit in God's Plan!
As a church, we have just completed the study of What on Earth Am I Here For? and it has had a huge impact. We have another opportunity to discover our true purpose.
S.H.A.P.E. (Spiritual Gifts, Heart, Abilities, Personality, Experiences)
Have you ever wondered what YOU can do to serve God and make a difference?
Are you tired of being asked to do things at church and in the community that you aren't good at and that don't excite you?
Discovering your SHAPE is the answer!    God has created you unique.  You are one in 8 billion (really!)  When you discover the abilities, experiences, personality, and passions God has put in you, then how you serve God becomes clear!  You will discover what opportunities to say "yes" to, and what you should say "no" to.  Join us for "S.H.A.P.E.  Discovering Your Ministry" in January.  There are 4 Tuesday night sessions, starting January 12th,   7 – 8:15PM   Led by Pastor Paul and DCE Kendis Bender.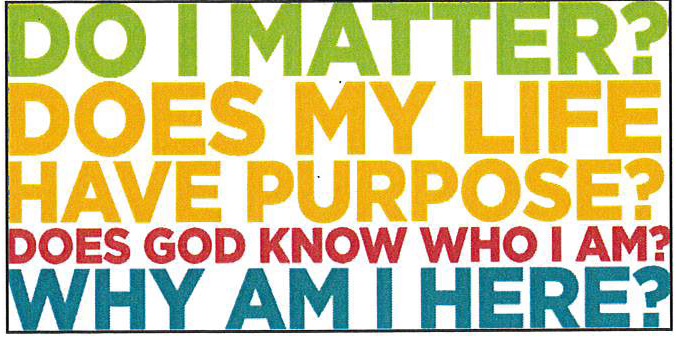 We have learned so much from this study!
God's doing wonderful things in people's lives through What On Earth Am I Here For?!  Small Groups are reaching out to feed hungry families, take on service projects, visit in nursing homes, and more.  We will commit ourselves to keep growing in living for God's purposes for our lives. Join us in serving through several Kingdom Project opportunities!